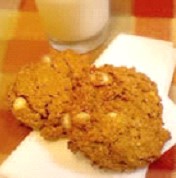 These cookies are a delicious and hearty alternative to doughnuts or pastries. Try one with your morning coffee or pack one in your lunch.
1/2 cup butter, softened
1 cup peanut butter
1 1/3 cups packed brown sugar
2 teaspoons vanilla extract
2 eggs
1/3 cup water
1 cup all-purpose flour 1 cup whole wheat flour
2 cups quick cooking oats
1/2 cup wheat germ
1 teaspoon salt
1 teaspoon ground cinnamon
2 teaspoons baking soda
1 cup raisins
In a large bowl, using an electric mixer, beat together butter, peanut butter, brown sugar, and vanilla until creamy. Beat in eggs and water.
Mix together flours, oats, wheat germ, salt, cinnamon, and baking soda. Mix into peanut butter mixture. Stir in raisins. Drop by ice cream scoopfuls 2 1/2 inches apart on greased cookie sheets. Flatten slightly.
Bake at 350 degrees F (175 degrees C) for 18 – 20 minutes. Cool on cookie sheet for 2 minutes, then transfer to cooling racks. Store in an airtight container.
Nutrition Information
Servings Per Recipe: 24
Calories: 239 Amount Per Serving
Total Fat: 10.5g
Cholesterol: 28mg
Sodium: 289mg Amount Per Serving
Total Carbs: 32.4g
Dietary Fiber: 2.7g
Protein: 6.1g
https://mayneislandfoodbank.com/wp-content/uploads/2020/05/hearty-breakfast-cookies.jpg
178
176
Mayne Island Food Bank
https://mayneislandfoodbank.com/wp-content/uploads/2020/06/foodbank.png
Mayne Island Food Bank
2020-05-29 09:59:41
2020-07-14 11:50:04
Hearty Breakfast Cookies